Yogvitam Pravin Dhokia is a British man who invaded the track during the 2015 Singapore Grand Prix.
2015 Singapore Grand Prix incident
Edit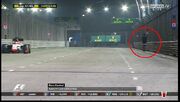 On lap 37, during the Singapore Grand Prix, the safety car was deployed after Dhokia jumped over the barrier on the approach to turn 13 before darting in front of eventual race-winner Sebastian Vettel as the Ferrari driver reached 180mph. Dhokia then casually wandered on the opposing side of the circuit unopposed for 53 seconds before finding a gap in the fence and leaving the track.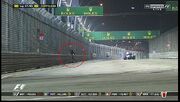 Vettel was the first driver to see the track invader. He yelled over the team radio: "There is a fan on the track. There is a fan on the track."
Sentencing
Edit
In November, Dhokia pleaded guilty to committing a "rash act" and endangering drivers' safety and was given a 6-week jail sentence for wandering onto the track.[1]
References
Edit
Ad blocker interference detected!
Wikia is a free-to-use site that makes money from advertising. We have a modified experience for viewers using ad blockers

Wikia is not accessible if you've made further modifications. Remove the custom ad blocker rule(s) and the page will load as expected.