Anthony Gordon Dean (July 23, 1932, in Leeds - January 17, 2008, in Leeds) was a former Formula One non-championship driver, who competed in several non-championship races. The British Formula Three Champion of 1965, he competed in various disciplines throughout the 60's, 70's and 80's which included sports car racing, touring car racing, the Can-Am series and various single seat formulae, including non-championship Formula One races. He is known for winning a round of the Can-Am championship in 1970 as a privateer.
His son, Richard, was also a racing driver.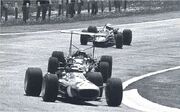 Formula One Statistical Overview
Edit
Formula One Record
Edit
Note: Italics donate non-championship entreats.
Year
Entreat
Team
WDC Points
WDC Pos.
1969
Privateer
BRM
Non-championship only
1971
Privateer
McLaren-Chevrolet
Non-championship only
1972
Privateer
McLaren-Chevrolet
Non-championship only
1973
Anglo-American Racers
Chevron-Chevrolet
Non-championship only
1974
A. G. Dean Ltd.
Chevron-Chevrolet
Non-championship only
Warning: Default sort key "Dean, Tony" overrides earlier default sort key "țemplate Infobox Driver".
Ad blocker interference detected!
Wikia is a free-to-use site that makes money from advertising. We have a modified experience for viewers using ad blockers

Wikia is not accessible if you've made further modifications. Remove the custom ad blocker rule(s) and the page will load as expected.