Stephen Green is a Grand Prix Track Marshal who is famous for stopping the track invader Neil Horan in the 2003 British Grand Prix.
2003 British Grand Prix and recognition
Edit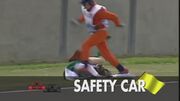 On 20 July 2003, Neil Horan, the Irish defrocked Catholic priest, ran across the track at the Formula One British Grand Prix at Silverstone Circuit, wearing a kilt and waving a religious banner, which stated "Read the Bible. The Bible is always right". His protest took place on the 200 mph Hangar Straight. Several of the drivers had to swerve to avoid him and the safety car had to be deployed to protect him and the competitors. Stephen Green, stationed at Hangar Straight, was informed of the track invader so chased after and tackled Horan to the floor and removed him from the track before Horan was arrested. Horan was charged with, and pleaded guilty to, aggravated trespass and sentenced to two months imprisonment.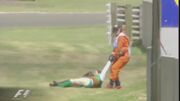 For his efforts in capturing the track invader, Green was later awarded the BARC Browning Medal for "outstanding bravery in tackling a track invader during the 2003 British Grand Prix at Silverstone", the second to do so after David Purley 21 years previously, and also honoured with the inaugural Alexander Forbes MSA Marshal of the Year Award in late 2003.[1]
References
Edit
Ad blocker interference detected!
Wikia is a free-to-use site that makes money from advertising. We have a modified experience for viewers using ad blockers

Wikia is not accessible if you've made further modifications. Remove the custom ad blocker rule(s) and the page will load as expected.