Scuderia Toro Rosso (literal translation: Team Red Bull) are an Italian Formula One racing team, currently competing in the Formula One World Championship. They are one of two teams owned by Austrian beverage manufacturer, Red Bull. However, while their sister team, Red Bull Racing, have an Austrian racing license, Toro Rosso compete under an Italian license, and are based in the town of Faenza in Italy.
The team had only one win at their home race, the 2008 Italian Grand Prix. It was Sebastian Vettel who took the first victory.
In
2015
, the team fielded the youngest pairing ever in F1. Débutantes,
Max Verstappen
and
Carlos Sainz, Jr.
had average age of just 18 years 364.5 days when they made their début at the
2015 Australian Grand Prix
.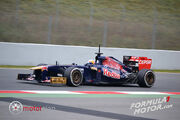 History of Team Personnel
Edit
Team Owner
Edit
Team Principal
Edit
Technical Director
Edit
Formula One Statistical Overview
Edit
Formula One Record
Edit
Year
Chassis
Engine
Tyres
Drivers
Rounds
Pts
WCC
Test Drivers
Report
2006
STR1
Cosworth TJ2005 V10

M

Vitantonio Liuzzi
All
1
9th
Neel Jani
Report
Scott Speed
All
2007
STR2
Ferrari 056 2.4 V8

B

Vitantonio Liuzzi
All
8
7th
Neel Jani
Report
Scott Speed
1–10
Sebastian Vettel
11–17
2008
STR2B
STR3
Ferrari 056 2.4 V8

B

Sébastien Bourdais
All
39
6th
Brendon Hartley
Report
Sebastian Vettel
All
2009
STR4
Ferrari 056 2.4 V8

B

Sébastien Bourdais
1–9
8
10th
Jaime Alguersuari
Brendon Hartley
David Coulthard
Report
Jaime Alguersuari
10–17
Sébastien Buemi
All
2010
STR5
Ferrari 056 2.4 V8

B

Sébastien Buemi
All
13
9th
Brendon Hartley
David Coulthard
Daniel Ricciardo
Report
Jaime Alguersuari
All
2011
STR6
Ferrari 056 2.4 V8

P

Sébastien Buemi
All
41
8th
Daniel Ricciardo
Jean-Éric Vergne
Report
Jaime Alguersuari
All
2012
STR7
Ferrari 056 2.4 V8

P

Daniel Ricciardo
All
26
9th
Sébastien Buemi
Report
Jean-Éric Vergne
All
2013
STR8
Ferrari 056 2.4 V8

P

Daniel Ricciardo
All
33
8th
Sébastien Buemi
Report
Jean-Éric Vergne
All
2014
STR9
Renault Energy F1-2014

P

Jean-Éric Vergne
All
30
7th
Sébastien Buemi
Report
Daniil Kvyat
All
2015
STR10
Renault Energy F1-2015

P

Max Verstappen
All
67
7th
Sébastien Buemi
Report
Carlos Sainz, Jr.
All
2016
STR11
Ferrari 059/4

P

Max Verstappen
1–4
63
7th
Pierre Gasly
Niko Kari
Sérgio Sette Câmara
Luis Leeds
Richard Verschoor
Report
Daniil Kvyat
5–21
Carlos Sainz, Jr.
All
2017
STR12
Toro Rosso

P

Daniil Kvyat
1–14, 17
53
7th*
Sean Gelael
Niko Kari
Report
Pierre Gasly
15–16, 18
Carlos Sainz, Jr.
1–16
Brendon Hartley
17
* Season in progress
Statistics
Edit
Correct as of the 2018 British Grand Prix qualifying
Complete Formula One results
Edit
Main article: Scuderia Toro Rosso/Results
Sauber Grand Prix Driver Count
Edit