Sam Tingle (24 August 1921, in Manchester, United Kingdom – 19 December 2008, in Somerset West, South Africa) was a racing driver from Rhodesia, now Zimbabwe. He participated in five Formula One World Championship Grands Prix, debuting on 28 December 1963. He scored no championship points. He also competed in several non-Championship Formula One races.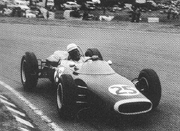 He was one of only two drivers from Rhodesia to successfully enter a Formula One race, the other being John Love. A third Rhodesian racer, Clive Puzey, failed to qualify in his Formula One attempt.
Formula One Record
Edit
Year
Entrant
Team

WDC

Points

WDC

Pos.
Report
1963
Sam Tingle
LDS-Alfa Romeo
0
NC
Report
1965
Sam Tingle
LDS-Alfa Romeo
0
NC
Report
1967
Sam Tingle
LDS-Climax
0
NC
Report
1968
Team Gunston
LDS-Repco
0
NC
Report
1969
Team Gunston
Brabham-Repco
0
NC
Report
Career Results
Edit
Complete Formula One results
Year
1
2
3
4
5
6
7
8
9
10
11
12
Pts
Pos
1963
0
NC
Ret
1965
0
NC
13th
1967
0
NC
Ret
1968
0
NC
Ret
1969
0
NC
8th
Key
Symbol
Meaning
Symbol
Meaning
1st
Winner
Ret
Retired
2nd
Podium finish
DSQ
Disqualified
3rd
DNQ
Did not qualify
5th
Points finish
DNPQ
Did not pre-qualify
14th
Non-points finish
TD
Test driver
NC
Non-classified finish (<90% race distance)
DNS
Did not start
[+] More Symbols
Ad blocker interference detected!
Wikia is a free-to-use site that makes money from advertising. We have a modified experience for viewers using ad blockers

Wikia is not accessible if you've made further modifications. Remove the custom ad blocker rule(s) and the page will load as expected.