Roy Pike (born August 29, 1938 in Pittsburgh, Pennsylvania) is a former Formula One non-championship driver, who entered in two races.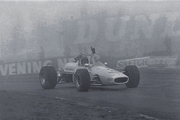 He qualified 13th (and last) at the 1969 Race of Champions, but was unable to start, due to a fuel pump failure on the warmup lap. His next (and final) entry was in the 1970 International Gold Cup, but he failed to arrive.
His best race of note was the 1966 24 Hours of Le Mans, where he drove a Ferrari 275 with Piers Courage. They finished eighth overall, and won the 5 liter GT class.
Formula One Statistical Overview
Edit
Formula One Record
Edit
Note: Italics donate non-championship entreats.
Ad blocker interference detected!
Wikia is a free-to-use site that makes money from advertising. We have a modified experience for viewers using ad blockers

Wikia is not accessible if you've made further modifications. Remove the custom ad blocker rule(s) and the page will load as expected.