Robert Sehli is a French man who invaded the track during the 2000 German Grand Prix. He was a former worker at a Mercedes factory in Le Mans, who was protesting at being unfairly dismissed from his job.
2000 German Grand Prix incident
Edit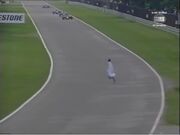 During the 2000 German Grand Prix in Hockenheimring, Sehli, a disgruntled ex-Mercedes employee who had recently been terminated from his job of 22 years due to health reasons, was shown in a white raincoat with anti-Mercedes messages on it, running across the track with cars approaching at over 100 mph, in protest at his dismissal. The race marshals soon apprehended Sehli as he walked away.
Sehli later apologised for his actions, and was fined by the Hockenheim race organisers for breaching circuit limits. However, he managed to win a court case later that year for the amount of 91,000 Francs, and gained support from the head of Mercedes motorsport, Norbert Haug, who labelled the treatment of Sehli's dismissal "scandalous".[1]
References
Edit
Ad blocker interference detected!
Wikia is a free-to-use site that makes money from advertising. We have a modified experience for viewers using ad blockers

Wikia is not accessible if you've made further modifications. Remove the custom ad blocker rule(s) and the page will load as expected.