The Red Bull Ring (formerly the Österreichring and the A1-Ring) is a motor racing circuit near Spielberg, Austria which has been used to host the Austrian Grand Prix on 29 occasions, the latest in 2017. Since opening in 1969, the circuit has undergone numerous major layout changes in an attempt to improve safety. It was removed from the Formula One calendar in 2003 and has lay dormant since. However, the circuit was acquired by Red Bull owner Dietrich Mateschitz and reopened in 2011. It has since hosted rounds of the DTM and Formula 2 championships in 2011. The Austrian Grand Prix returned to the F1 calendar in 2014.
Österreichring
Edit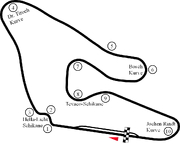 The local auto club felt that Austria belonged on the Formula One map. But after running two events at the nearby Zeltweg Airfield, a proper track was desperately needed. A plot of land was found about two km north, in the foothills above the airport. Making full use of the available space and terrain, a 5.9 km circuit was laid out, with only seven real corners. At no point on the track did a Formula One car have to shift below third gear, and laps speeds were comfortably above 200 km/h.
Red Bull Ring
Edit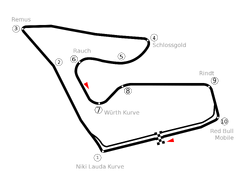 Starting from the 2017 Austrian Grand Prix, the kink after Turn 1 was recognised as Turn 2 by the FIA, after MotoGP described it as Turn 2 during their races at Austria.[1]
Race winners
Edit
↑ 1.0 1.1 Wood, Ryan (5 July 2017). "FIA amends Red Bull Ring's corner numbers". Motorsport Week. https://www.motorsportweek.com/news/id/15176

. Retrieved 10 July 2017

.