The Red Bull RB8 is a Formula One car built by Red Bull Racing in partnership with Infiniti for the 2012 Formula One Season. Making its debut at the 2012 Australian Grand Prix, the car won seven races, and scored a further seven podium positions, in the 20 events in 2012. The Red Bull team won the constructor's title, and Red Bull driver Sebastian Vettel won the driver's championship driving the RB8.
Race Victories
Edit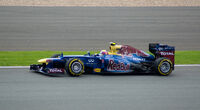 Complete Formula One Results
Edit
Year
Driver
Tyre
1
2
3
4
5
6
7
8
9
10
11
12
13
14
15
16
17
18
19
20
2012
Sebastian Vettel

P

2nd
11th
5th
1st
6th
4th
4th
Ret
3rd
5th
4th
2nd
22nd
1st
1st
1st
1st
3rd
2nd
6th
Mark Webber
4th
4th
4th
4th
11th
1st
7th
4th
1st
8th
8th
6th
20th
11th
9th
2nd
3rd
Ret
Ret
4th
Ad blocker interference detected!
Wikia is a free-to-use site that makes money from advertising. We have a modified experience for viewers using ad blockers

Wikia is not accessible if you've made further modifications. Remove the custom ad blocker rule(s) and the page will load as expected.