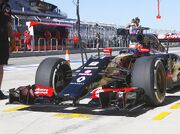 The Lotus E22 was a Formula One racing car entered by Lotus for the 2014 Formula One season. It was driven by Romain Grosjean and Pastor Maldonado.
The E22 was the last car to be launched for the season, and was revealed online, and then unveiled at the first Bahrain pre-season test. Compared to the previous season, the Lotus E22 was very unsuccessful compared to its predecessor, under-performing throughout the season and finishing 8th in the Constructors' Championship.
Complete Formula One Results
Edit
Complete Formula One Results
Year
Driver
Tyre
1
2
3
4
5
6
7
8
9
10
11
12
13
14
15
16
17
18
19
2014
Grosjean

P

Ret
11th
12th
Ret
8th
8th
Ret
14th
12th
Ret
Ret
Ret
16th
13th
15th
17th
11th
17th
13th
Maldonado
Ret
Ret
14th
14th
15th
DNS
Ret
12th
17th
12th
13th
Ret
14th
12th
16th
18th
9th
12th
Ret
Ad blocker interference detected!
Wikia is a free-to-use site that makes money from advertising. We have a modified experience for viewers using ad blockers

Wikia is not accessible if you've made further modifications. Remove the custom ad blocker rule(s) and the page will load as expected.