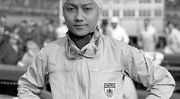 This is a list of Formula One drivers who have also participated in an Olympic Games, Summer or Winter.
It is typically very rare nowadays to see sportsmen and woman competing in more than one sport over their career. Typically, these were rich people with enough time and money to allow themselves attempts at multiple sports, though now the reasons are more individual. Aside from motor racing and bobsleigh, Alfonso de Portago rode at horse racing's Grand National (held at Aintree) twice.
F1's only Olympic medalist is Alex Zanardi, who has won six handcycling Paralympic medals, including four golds, in 2012 and 2016. De Portago is the best of the other drivers, scoring a fourth place in his only Olympic bobsleigh outing in 1956 (and winning a World Championship bronze in 1957).
Twice have F1 drivers directly completed against each other. Prince Bira and Roberto Mieres both took part in the Star class Sailing event in Rome 1960, while Bob Said and Robin Widdows played their part in the four-man Bobsleigh event in Grenoble 1968.
Note: Able-bodied Olympics unless stated.
Name
Olympics
No. of Olympics
Attended
Sport
Class/Event
G
S
B
Prince Bira
Summer
4
Melbourne 1956
Rome 1960
Tokyo 1964
Munich 1972
Sailing
Star (1956–1960)
Dragon (1964)
Tempest (1972)
0
0
0
Alfonso de Portago
Winter
1
Cortina d'Ampezzo 1956
Bobsleigh
Two-man
0
0
0
Divina Galica
Winter
4
Innsbruck 1964
Grenoble 1968
Sapporo 1972
Albertville 1992
Alpine Skiing (1964–1972)
Downhill
Speed Skiing (1992)
(demonstration)
0
0
0
Roberto Mieres
Summer
1
Rome 1960
Sailing
Star
0
0
0
Ben Pon
Summer
1
Munich 1972
Shooting
Skeet
0
0
0
Bob Said
Winter
2
Grenoble 1968
Sapporo 1972
Bobsleigh
Four-man
0
0
0
Robin Widdows
Winter
2
Innsbruck 1964
Grenoble 1968
Bobsleigh
Four-man
0
0
0
Alex Zanardi
Summer
Paralympics
2
London 2012
Rio 2016
Handcycling
Time trial H4/H5
Road race H4/H5
Mixed team relay H1–4/H2–5
4
2
0
External links
Edit
Ad blocker interference detected!
Wikia is a free-to-use site that makes money from advertising. We have a modified experience for viewers using ad blockers

Wikia is not accessible if you've made further modifications. Remove the custom ad blocker rule(s) and the page will load as expected.