Jimmy Jump (real name Jaume Marquet i Cot) is a Spanish streaker from Sabadell, Catalonia, Spain, known for interfering in several major entertainment and sporting events.
2004 Spanish Grand Prix incident
Edit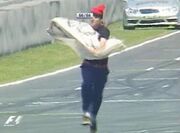 In the 2004 Spanish Grand Prix, Jimmy ran through the starting grid during the parade lap, only to be apprehended by the race marshals shortly after. While he claimed to have many fans (due to his other performances at football matches), he was criticized for risking the lives of the drivers, even though the cars were still travelling at low speed at this point.
Other incidents
Edit
During the UEFA Euro 2004 final between Greece and Portugal, he threw an FC Barcelona flag at the Portuguese captain – Luís Figo – who left that team to join their archrivals, Real Madrid, in 2000.
On September 11, 2010, Jimmy ran onto the field before the second half of the Hungarian Derby between Újpest and Ferencváros. He held a Catalan flag, with the message "Kubala [a former Barcelona and Ferencváros player] forever". Before the security guards caught him, he kicked the ball into the Ferencváros goal[1]. Security handed him over to the police and he was taken into custody for 4 hours, before being released and fined approximately €350.
During the 2010 Eurovision Song Contest in Norway, Jimmy Jump invaded the stage during the Spanish performance of Daniel Diges and took part in the choreography. He subsequently left the stage at the venue and was immediately escorted away from the concert area and taken to Sandvika police station, where he was arrested and fined 15,000 Norwegian kroner or €2 000. Due to the incident, Spain was allowed to perform for a second time by the contest's executive supervisor, Svante Stockselius.[2]
References
Edit
↑

"Jimmy Jump akciójától a szurkolók balhéjáig - fotók" (in Hungarian). Nemzeti Sport Online. 2010-09-12. Archived from the original on 2010-09-12. Retrieved 2010-09-12

↑

"Spain invaded in Eurovision Song Contest as Germany's". The Daily Telegraph. Associated Press. 2010-05-30. Archived from the original on 2010-05-31. Retrieved 2010-05-31.
Ad blocker interference detected!
Wikia is a free-to-use site that makes money from advertising. We have a modified experience for viewers using ad blockers

Wikia is not accessible if you've made further modifications. Remove the custom ad blocker rule(s) and the page will load as expected.