Emilio Giuseppe "Nino" Farina (FAR-ee-NAH; 30 October 1906 in Turin, TO, Piedmont, Italy – 30 June 1966 in Chambéry, Savoie, Rhône-Alpes, France) was an Italian racing driver from Turin. He is notable for winning the very first Formula One race and the season that it was part of, thus Farina is the first Formula One winner and the first Formula One World Champion.
Early Years
Edit
On the same day of young Giuseppe Farina's birth, Giuseppe's father, Giovanni had established Stabilimente Farina, a bodywork shop for cars, located in the famous manufacturing city of Turin, Italy. The young Giuseppe, affectionately known as 'Nino' grew up in an automotive environment with his Giovanni owning a bodywork business and uncle Pinin owning one of Italy's most prelific coach building companies Pininfarina.
Farina's first experience in a car came when he drove his father's car around his company factory at the age of nine years old. His appetite for motoring ventures was further whetted when his uncle Pinin asked him to accompany him as a co-driver in road races at the age of 16. After three years of racing as Pinin's co-driver, young Giuseppe began entering solo events at age 19. In one of his first solo races, young Nino, survived an enormous accident in a hill climb, this crash would set a worrying trend in Farina's career.
Giuseppe Farina was both highly athletically and academically inclined. Aside from motorsports Farina had the athletic qualities of being a fast runner and being strong in football and skiing. Farina also received a Doctorate of Law at the Turin University demonstrating his academic ability.
In the early 1930's Farina completed his mandatory military service as a cavalry officer in the Italian army. Following the completing of his military service in 1932, Farina returned to his racing bug and purchased an old Alfa Romeo to compete in local race events and hillclimbs.
1932-1956: Grand Prix / Formula One
Edit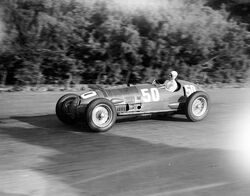 During the 1930s, Farina was signed to Alfa Romeo as number two to Tazio Nuvolari.
In the 1936 Monaco GP Nuvolari was concerned about the poor health of his son and this proved a good opportunity for Farina to step up as number 1 driver. There was torrential rain as the cars lined up on the grid and Farina's car was leaking oil so he took over the car of team mate Mario Tadini.
In what was one of the most stupid decisions in motor racing history, Tadini decided to take out Farina's leaking Alfa onto the wet track and dropped oil all over the greasy circuit.
As the drivers entered Tabac for the second lap a huge accident happened involving 7 of the leading cars, including Farina himself, spinning on the oil and colliding with one another. The eighth and final victim of this was Tadini spinning on his own oil.
Farina and Alfa Romeo went on to become Italian drivers champion three years in a row from 1937–1939.
Farina was reaching his peak as WWII broke out but enjoyed post war success driving a privately owned Maserati in which he won the 1948 Monaco Grand Prix.
Formula One Career
Edit
For 1950 Nino Farina was one of the factory Alfa Romeo drivers that would dominate the season right from the first GP at Silverstone which Farina won with ease and took the championship leader whilst his teammates and rival Luigi Fagioli came second and Juan Manuel Fangio retired.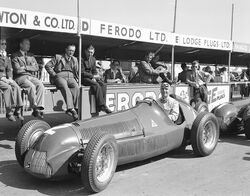 The second race of the season was at Monaco and Farina made a slower start than Fangio entering the first corner in second position. As they entered the Tabac corner on the harbour front they found it had been flooded by a tidal wave and although Fangio found his way through, Farina spun and was involved in a multi-car pile-up. Fangio won the race as Farina retired levelling the championship.
The championship competitors skipped Indianapolis and met again at Bremgarten for the fourth round which proved a dominant lights to flag victory for Farina, Fangio retiring whilst running second.
By the Belgium GP, Farina had 18 points, Fagioli 12 and Fangio 9 and Farina had started thinking about the championship. When he started developing clutch problems he decided to just bring the car home in the points rather than race Fangio and brought the car home fourth as Fangio took the win.
At Reims for the French GP Farina looked formidable as he was in Switzerland, searing off the front at a pace nobody could match but sadly during his second pitstop with fuel pump issues.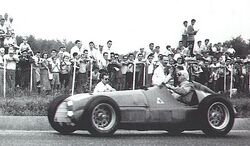 As the cars arrived at the final GP of the season at Monza, Farina was no longer leading the championship and was four points behind Fangio and two behind Fagioli. Farina would have to win the race and hope that Fangio scored lower than second.
Ferrari had brought a new car to the GP and as the flag dropped it was Farina and Alberto Ascari leading the race. The new Ferrari had better fuel consumption than the Alfa and when Farina pitted Ascari surged into the lead until his new engine blew on lap 20. At this point Farina now had a 2 minute lead and started cruising.
Fangio was driving a cautious race in third and with the retirement of Ascari was in a title winning position which lasted only 2 laps when his car retired with gearbox troubles.
Fangio took over a teammates car but retired that too leaving Farina an easy win over Fagioli and the world title.
Formula One Statistical Overview
Edit
F1 Career History
Edit
Note: Points in brackets refer to gross points total.
Statistics
Edit
* In two shared drives at the 1955 Argentine Grand Prix, he finished both second and third, technically recording two podium finishes.
Non-Championship Wins
Edit
Career Results
Edit
Complete Formula One results
Year
1
2
3
4
5
6
7
8
9
Pts
Pos
1950
30
1st
1st
Ret
DNA
1st
4th
7th
1st
1951
19
4th
3rd
1st
5th
Ret
Ret
3rd*
3rd
1952
24
2nd
Ret
WD
2nd
2nd
6th
2nd
2nd
4th
1953
26
3rd
Ret
2nd
Ret
5th
3rd
1st
2nd
2nd
1954
6
8th
2nd
Ret
DNP
INJ
INJ
INJ
INJ
DNA
1955
10.333
5th
2nd
3rd†
4th
3rd
DNS
1956
0
NC
DNQ
Key
Symbol
Meaning
Symbol
Meaning
1st
Winner
Ret
Retired
2nd
Podium finish
DSQ
Disqualified
3rd
DNQ
Did not qualify
5th
Points finish
DNPQ
Did not pre-qualify
14th
Non-points finish
TD
Test driver
NC
Non-classified finish (<90% race distance)
DNS
Did not start
[+] More Symbols
* Shared drive.
† Farina finished both 2nd (with Maurice Trintignant and José Froilán González) and 3rd (with Umberto Maglioli and Trintignant). He received a third of the points for both.
Poisitons and Records held
Edit