The Ferrari F14 T was the car produced by Ferrari for the 2014 season, and the sixtieth car produced by Ferrari for the Formula One World Championship. Its name was chosen by fans from five possible choices and it was launched online on 25 January. It was driven by two world champions; 2005 and 2006 World Champion Fernando Alonso and 2007 champion Kimi Räikkönen.
The performance of the F14 T was disappointing by the Maranello team's high standards, managing only two podium finishes and 4th in the Constructors' Championship. Both podiums were scored by Alonso, while Räikkönen failed to finish on the podium for the first time since his debut season in 2001. This result led, in part, to the dismissal of team boss Marco Mattiacci after just seven months in the job, and in November 2014, Fernando Alonso left the team to join McLaren-Honda in 2015.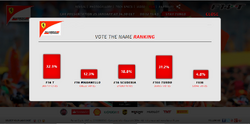 Historically, Ferrari cars have been named after the engine, the number being formed by the engine displacement and number of cylinders. For example, the 156 had a 1.5-litre V6 engine. Ferrari last used this naming strategy in 2006 with the 248 F1 (with the 2.4-litre V8 engine being introduced). Under this strategy, the 1.6-litre V6 engines would cause the car to be named with "166" as part of the title.
However, in a first for the sport, fans were given the opportunity to name the car. There were five choices; F14 T, F14 Maranello, F14 Scuderia, F166 Turbo and F616. People could vote up to five times and a total of 1,123,741 votes were cast. The results are as follows:
| Rank | Name | Votes | Percentage |
| --- | --- | --- | --- |
| 1 | F14 T | 369,711 | 32.9% |
| 2 | F166 Turbo | 350,607 | 31.2% |
| 3 | F14 Scuderia | 211,263 | 18.8% |
| 4 | F14 Maranello | 138,220 | 12.3% |
| 5 | F616 | | |
2014 Ferrari car naming votes
Car name
Votes
F14 T
32.9%
F166 Turbo
31.2%
F14 Scuderia
18.8%
F14 Maranello
12.3%
F616
4.8%
Season review
Edit
Main article: 2014 Ferrari Season
Complete Formula One Results
Edit
Complete Formula One Results
Year
Driver
Tyre
1
2
3
4
5
6
7
8
9
10
11
12
13
14
15
16
17
18
19
2014
Alonso

P

4th
4th
9th
3rd
6th
4th
6th
5th
6th
5th
2nd
7th
Ret
4th
Ret
6th
6th
6th
9th
Räikkönen
7th
12th
10th
8th
7th
12th
10th
10th
Ret
11th
6th
4th
9th
7th
12th
9th
13th
7th
10th
The F14 T is featured in Real Racing 3.
Ad blocker interference detected!
Wikia is a free-to-use site that makes money from advertising. We have a modified experience for viewers using ad blockers

Wikia is not accessible if you've made further modifications. Remove the custom ad blocker rule(s) and the page will load as expected.