David Wishart Hobbs (born June 9, 1939 in Royal Leamington Spa, England) is a former British racing driver in Formula One. He is most well known for his role as a commentator on NBC and NBC-Sports Network for Formula One races in the United States.
Formula One Career
Edit
Before Formula One
Edit
Driving a McLaren M24, Hobbs started ninth and finished fifth at the 1974 Indianapolis 500.
Formula One Broadcaster
Edit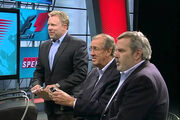 Formula One Statistical Overview
Edit
Formula One Record
Edit
Career Statistics
Edit
Career Results
Edit
Complete Formula One results
Year
1
2
3
4
5
6
7
8
9
10
11
12
13
14
15
Pts
Pos
1967
0
NC
8th
10th
9th
1968
0
NC
Ret
1971
0
NC
10th
1974
0
NC
7th
9th
Key
Symbol
Meaning
Symbol
Meaning
1st
Winner
Ret
Retired
2nd
Podium finish
DSQ
Disqualified
3rd
DNQ
Did not qualify
5th
Points finish
DNPQ
Did not pre-qualify
14th
Non-points finish
TD
Test driver
NC
Non-classified finish (<90% race distance)
DNS
Did not start
[+] More Symbols
External links
Edit
Commentary
Edit
"Well I must say that the weight limit in these cars is so low, it makes for ridiculously light drivers. I really think they should weigh the car and the driver just like they do in horse racing." - Discussing the new weight regulations. ESPN. 1990 Brazilian Grand Prix.
Ad blocker interference detected!
Wikia is a free-to-use site that makes money from advertising. We have a modified experience for viewers using ad blockers

Wikia is not accessible if you've made further modifications. Remove the custom ad blocker rule(s) and the page will load as expected.