Circuit de Monaco is a temporary street circuit based in Monte Carlo, Monaco.
The circuit takes six weeks to prepare and three weeks to return to normal. It is laid out on the streets of the Monte Carlo neighbourhood of Monaco, hence its common name Monte Carlo.
Circuit Design
Edit
The circuit is very demanding, being a tight twisty circuit with unforgiving walls very close to the cars. The circuit features the slowest corner in the entire championship (the Grand Hotel hairpin is taken at just 50 kph/31 mph). However, because of the tight nature of the circuit, overtaking is rare, usually limited to pit stops.
The circuit also passes through a tunnel which is very difficult for drivers, as there is a quick change from the natural light outside the tunnel to the artificial light inside back to the natural light outside. All this takes place in just a few seconds.
Following the tunnel is a tight left-right chicane. This has been the scene of many big accidents as drivers need to brake hard in order to slow down, Karl Wendlinger and Jenson Button being the most notable victims in 1994 and 2003.
Deaths at the Circuit
Edit
One death has occurred at the circuit during F1 races. This was Lorenzo Bandini in 1967, who flipped his Ferrari at the chicane, which then caught fire in some straw bales. He died three days later from burns.
Circuit Layouts
Edit
Previous Layouts
Edit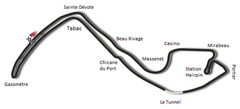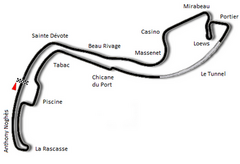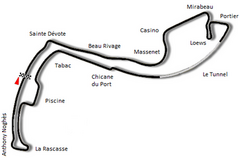 Grand Prix Winners at Circuit de Monaco
Edit
Multiple Winners
Edit
Wins
Driver
Years
6
Ayrton Senna
1987, 1989, 1990, 1991, 1992, 1993
5
Graham Hill
1963, 1964, 1965, 1968, 1969
Michael Schumacher
1994, 1995, 1997, 1999, 2001
4
Alain Prost
1984, 1985, 1986, 1988
3
Stirling Moss
1956, 1961, 1989
Jackie Stewart
1966, 1971, 1973
Nico Rosberg
2013, 2014, 2015
2
Juan Manuel Fangio
1950, 1957
Maurice Trintignant
1955, 1958
Niki Lauda
1975, 1976
Jody Scheckter
1977, 1979
David Coulthard
2000, 2002
Fernando Alonso
2006, 2007
Lewis Hamilton
2008, 2016
Mark Webber
2010, 2012
Sebastian Vettel
2011, 2017
Wins by Country
Edit
Wins
Country
15
Great Britain
9
Germany
8
France
6
Brazil
3
Argentina
Australia
Austria
2
Finland
Italy
New Zealand
South Africa
Spain
1
Canada
Colombia
Sweden
Ad blocker interference detected!
Wikia is a free-to-use site that makes money from advertising. We have a modified experience for viewers using ad blockers

Wikia is not accessible if you've made further modifications. Remove the custom ad blocker rule(s) and the page will load as expected.