Circuit Park Zandvoort, known as Circuit Van Zandvoort when it was on the Formula One calendar, is a racing circuit on the North Sea coast, just north of Zandvoort, Netherlands. The track opened in 1948, and last hosted Formula One in 1985.
Circuit History
Edit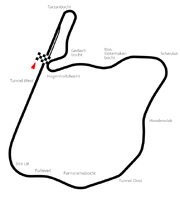 Prior to World War II, there had been plans for a race track in the area. The local club had held street races in the late 30s, but after the war a track was laid out, largely on defense roads built by the German Army.
Circuit Layouts
Edit
Previous Layouts
Edit
The original layout in 1948 was 4.193 km (2.605 mi). After the fatal accident of Piers Courage at Tunnel Oost in 1970, a chicane was added just before at Hondenvlak. The track length from 1972-79 was 4.226 km (2.626 mi). A second chicane was added before the 1980 race, tightening up the Panoramabocht. The final track length for Formula One was 4.252 km (2.642 mi).
Event history
Edit
The following is a list of Formula One World Championship events held at the Zandvoort circuit:
Ad blocker interference detected!
Wikia is a free-to-use site that makes money from advertising. We have a modified experience for viewers using ad blockers

Wikia is not accessible if you've made further modifications. Remove the custom ad blocker rule(s) and the page will load as expected.