Circuit de Gilles Villeneuve is a popular circuit on the Île de Notre-Dame, in the Saint Lawrence river, not far from downtown Montreal. It is a twisting track with many chicanes. It is toughest on brakes because of the long straights and big stops. The circuit first staged a GP in 1978 and has only been absent since in 1987 and 2009. The circuit consists of 15 turns, and the pole speed in 2016 was just under 134 mph.
Circuit de Gilles Villeneuve was built around the site of the 1967 International Expo. The fair was notable for Buckminster Fuller's geodesic dome. In 1978, the circuit opened for business.
It was originally named Circuit Île de Notre-Dame, but due to the death of Gilles Villeneuve at the 1982 Belgian Grand Prix, the circuit was named after him.
The circuit is a hard one with little run-off. This has caused some to question the circuit's safety. Italian Driver Riccardo Paletti was killed in 1982 when he crashed into Didlier Pironi's stalled Ferrari. Robert Kubica was injured there in 2007.
The race was discontinued for 2009, due to the global economic crisis, but it was added back to the calendar starting from 2010.
The Circuit
Edit
The straight is a short spurt of speed before the left-hander turn 1. Then turn 2 follows immediately, which is a hairpin right. Then another short spurt until the 3-4 chicane, which is where Olivier Panis started his leg-braking crash in 1997, driving a Prost. Then it is the quick turn 4, taken at 140 mph in 6th gear hurtling towards turns 5 and 6. Then it is the longest straight since the start of the lap, under a bridge (also known as Pont de la Concorde) which is right before the 180 mph-to-75 mph chicane that are turns 7 and 8. After this, the circuit sweeps through 9 into the heaviest breaking point on the track, the second hairpin (L'Epingle). Then the drivers quickly upshift through a slight kink taken flat out, and on to the 'Casino Straight', where the speed trap is located. This is the fastest portion of the track. At the end of the Casino Straight is the final chicane, commonly known as the 'Mur de Quebec' because of the sponsorship of the province of Quebec right behind the wall, and also known as the 'Wall of Champions' because several drivers who have won the F1 World Championship have crashed there. This chicane is taken in 2nd gear at 90 mph. Then it is the short straight to the start/finish line, which has 'Salut Gilles' (Hello, Gilles) painted just next to it. A fan spontaneously painted that after the death of Gilles Villeneuve in 1982, and race organizers have kept it until now, repainting it each year.
Wall of Champions
Edit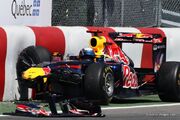 The wall on the outside run-off from the final chicane is known as the Wall of Champions, and is notorious for claiming several top-class drivers, including numerous World Champions over the years. Among those drivers to have crashed out into the Wall of Champions are:
On-board lap
Edit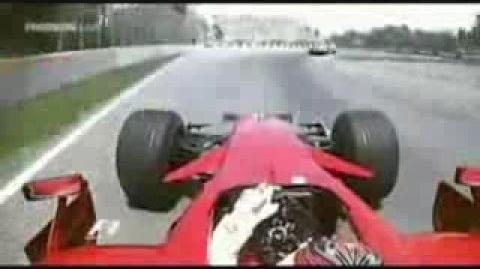 Event history
Edit
The following is a list of Formula One World Championship events held at Circuit Gilles Villeneuve:
↑ Circuit named Circuit Île Notre-Dame from 1978 to 1981
External links
Edit