Since the Le Mans tragedy of 1955, motor racing has been banned in Switzerland but from the championships outset, the formidable Bremgarten circuit near Berne held 5 World Championship Grand Prix.
Circuit History
Edit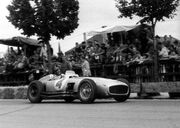 The track was first used in 1931 for Motorcycle racing with the first Swiss Grand Prix for cars taking place in 1934 and was held annually there after, dominated by the Silver Arrows, Hans Stuck winning the first GP in an Auto Union and the famous marque would win again in 1936 with Bert Rosemeyer where their rivals Mercedes would win with Hermann Lang in 1939 and with Rudolf Caracciola who would really make the circuit his own, winning in 1935, 1937 and 1938. Caracciola would eventually end his racing career at the circuit in 1952 driving a Mercedes 300SL. His brakes locked, sending his car into a tree, suffering a broken leg.
Post war there was great joy as the French great Jean-Pierre Wimille won in 1947 but the 1948 event was a tragic affair when Italian legend Achille Varzi was killed before the race in a practice accident. The race was packed with incident too, Maurice Trintignant was thrown from his car when he spun and lay unconscious in the road. Nino Farina, Prince Bira and Robert Manzon were forced to crash in avoidance of is body. He was declared dead at hospital but after lying in a coma for 8 days, Trintignant pulled through. Not so lucky was Christian Kautz who had a fatal accident of his own.
The demanding circuit also ended the careers of Eugène Martin in 1950 when he was thrown out of his car and Henri Louveau in 1951 when he broke his legs.
In the 50's Nino Farina won in 1950, Juan Manuel Fangio in 1951, Piero Taruffi in 1952, Alberto Ascari in 1953 and Juan Manuel Fangio again in 1954. All these drivers barring Taruffi went on to win the championship that year.
After the Le Mans disaster in 1955, the Swiss Government cancelled the forthcoming Swiss Grand Prix which was to be hosted at Bremgarten and the sport has been banned in the country ever since.
Circuit Layouts
Edit
Bremgarten was a true road course set in stunning countryside. Both fast and dangerous, the track blasted through forest roads and was comprised of no real straights, more kinks between bends and sweeping corners.
The track had no run-off and the surfaced was changeable.
Previous Layouts
Edit
Event history
Edit
The following is a list of Formula One World Championship events held at the Bremgarten circuit:
Ad blocker interference detected!
Wikia is a free-to-use site that makes money from advertising. We have a modified experience for viewers using ad blockers

Wikia is not accessible if you've made further modifications. Remove the custom ad blocker rule(s) and the page will load as expected.